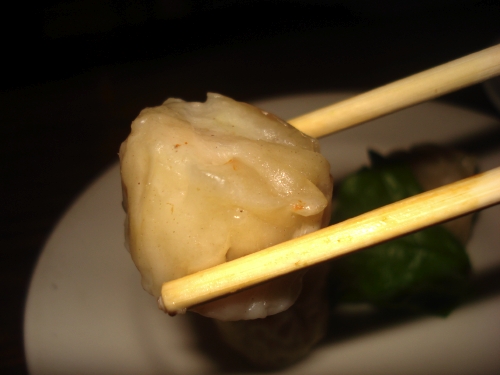 Back when I spent the summer of 2006 in Japan, one of my favorite food discoveries was "shumai," little bite-sized steamed dumplings with some sort of meat filling. Unfortunately, most of the shumai out there was pork-based. The couple managing the dorm I stayed in knew about my (only) dietary restriction, pork, so on the days that shumai was on the menu, they would make shrimp shumai specially for me. It would make my day.
When I returned to the States that year, I browsed through Japanese stores until I finally found boxed frozen shrimp shumai. I was stoked! I would steam them and eat them a couple at a time…. until I looked at the ingredients one day and realized that it contained pork fat! I had to give the remaining shumai away to a friend. The happiness was short-lived.
This afternoon, when I was perusing the happy hour menu in one of the Japanese restaurants I frequent, the item "shrimp dumplings" caught my eye. I figured it would be something like gyoza, so I decided to order some, after asking the waiter repeatedly if there was any pork in it — she didn't understand why. Then, they arrived. They were shumai!