Oatmeal is so boring. For years I thought that the only way to make it palatable was to douse it in brown sugar or honey, and I'm more of a fan of savory foods, so I wasn't interested. I never really thought of making savory oatmeal until a friend Sam posted a photo of oatmeal with a poached egg on top back in 2012. I was intrigued, but didn't bother to try it until I had a place of my own this year.
These are two pretty simple recipes I've experimented with so far. I am now an oatmeal convert.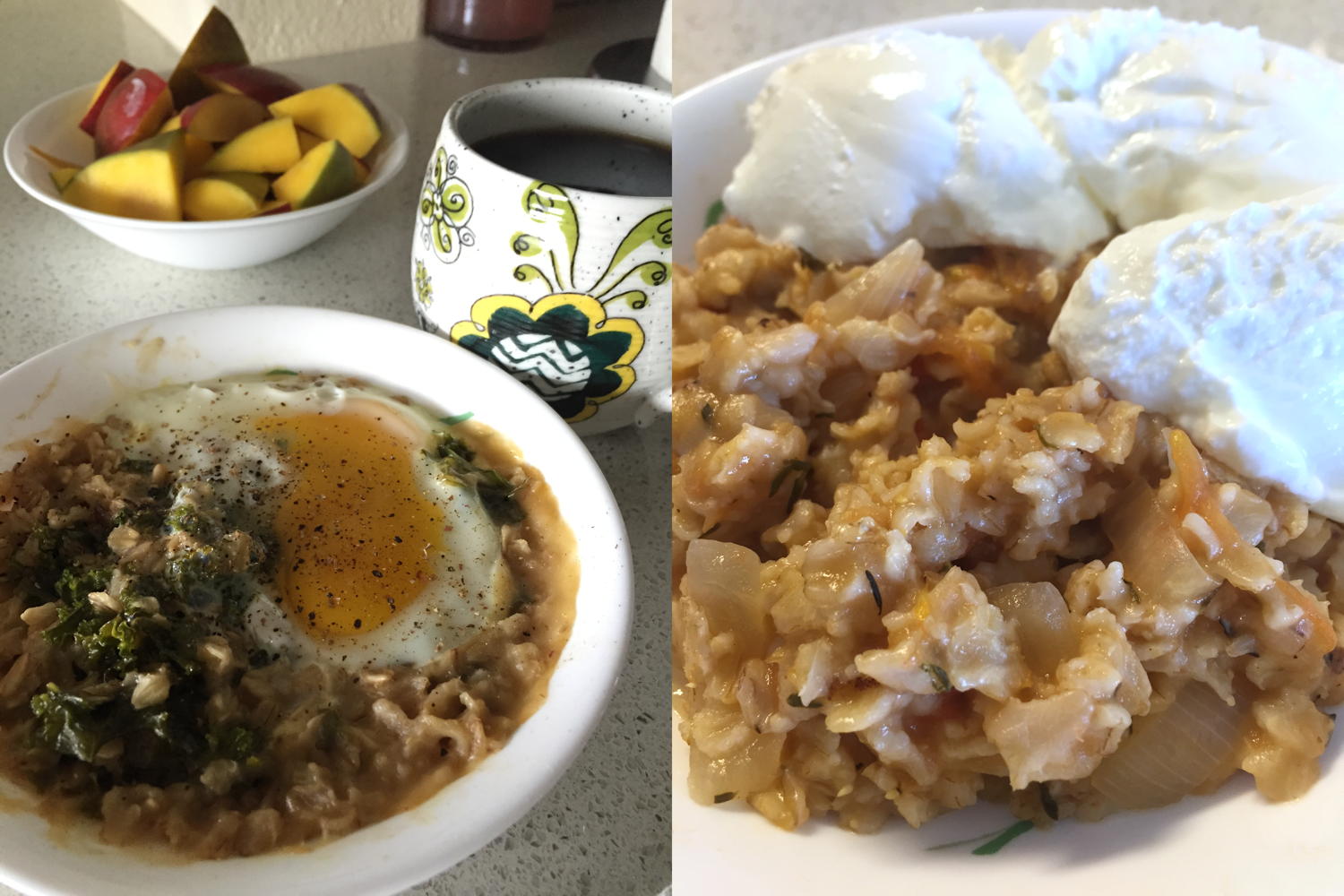 Kale and Onion Oatmeal
This one's very quick to make in the microwave in those weekday mornings when you're rushing to work (given that you've done the prep work!). Therefore, the recipe below serves one and utilizes the microwave.
You can do this stovetop and with multiple servings, too, obviously. I made a pot of it for my friends yesterday, and they all loved it.
Ingredients:
– 1 bunch kale*
– 1 onion*
– olive oil
– salt
– microwavable oatmeal of your choosing
– egg
* I usually make a big batch of sautéed kale and onions and add it to my food over the course of the week. Don't eat it all at once, unless you are throwing a big oatmeal party!
Directions:
1. Chop up the onions and sautée them over a wide pan for a little bit in olive oil.
2. Chop up the kale and add to the onion. Add salt as desired. Put the cover on and cook it until you're happy – I like mine pretty wilted, so it may take over a half hour.
3. In a bowl, put in as much oatmeal/water as you want (or as the packaging suggests).
4. Throw a few spoonfuls of the kale/onion into the oatmeal/water mixture, add a dash of salt, and stir the concoction.
5. Follow packaging instructions for microwaving.
6. Stop the microwave 30 seconds prior to the time running out, crack an egg on top, then put back into the microwave for an additional 1-1.5 minutes.**
** I've found that the egg cooks faster when it's closer to the edge. If it's still runny, just stab it a few times once it's out of the microwave; the oatmeal will be pretty hot and it will cook instantly.
Tomato, Onion, Thyme Oatmeal
This one's a stovetop recipe and serves one. I wanted something filling to make it through most of the day, and it hit the spot!
Ingredients:
– 1/4 onion
– 1 tomato
– 1 teaspoon or more thyme
– oatmeal of your choosing
– salt
Directions:
1. Chop up the onions and sautée them over a little saucepan for a little bit in olive oil.
2. Chop up the tomatoes and cook with the onions until the tomatoes are soft and mushy. (Or, cook more until they caramelize a little bit.) Add salt and thyme as desired.
3. Add as much water as the packaging suggests, mix it all together, and bring it to a boil. (I boiled the water in an electric kettle because I was impatient.)***
4. Add as much oatmeal as the packaging suggests and simmer until it's done, stirring occasionally.
5. I garnished this one with Greek yogurt, but you could also slice an avocado and/or poach an egg on top.
***I made a rookie mistake and attempted to use milk instead of water. Don't do it!! Tomato is acidic, and it curdled the milk when I boiled them together (duh, in retrospect!). I googled the problem and apparently this is a common issue when making creamy tomato soup. Some sites suggest adding baking soda to the tomato, which neutralizes the acid. You could also add the tomato slowly into the milk. Makes sense, but I was too lazy/hungry to experiment with it this time.
Anyway, I hope this inspires you to take a foray into the world of savory oatmeals! I had googled a few examples when starting out, and my own recipes are simpler and way tastier than a few I found in "wiki-how"-type websites.