Unbeknownst to most of you, I have won an internal battle. You know how they say that the personal blog is dead? Well, I've decided that it's not, and that I will continue keep my blog general like I've always been.
I keep seeing all these specialized blogs that target certain niches. So, for a long time, I wondered if I should focus my efforts on only a narrow range of topics. I could have focused my blog on any one of these topics (in no particular order):
– Photography
– Clothes and accessories
– Music/Composition
– My experiences growing up as a Turkish American
– Drawings/Sketches
– Science, engineering, women in engineering
– Eating lots of delicious food
– Personal self-reflection and the wonders of being an introvert
– Work/life/art balance, how to derive the most satisfaction out of life
– Pigeons
The realization I came across as I browsed other blogs for inspiration was that I'm more intrigued by glimpses into individual people's lives; I follow blogs for who their authors are. Interests may change, but the person's essence is still there. As I see myself as a jack of all trades and I'm always dabbling in multiple things, a blog that addresses all of my interests simultaneously is most representative of my personality.
My instinct to diversify was confirmed by a readers' poll I had posted here in 2010. I posted the same poll on my English and Turkish blogs, and below are the cumulative results. I was surprised to see that for the most part, there was roughly equal interest on a variety of topics.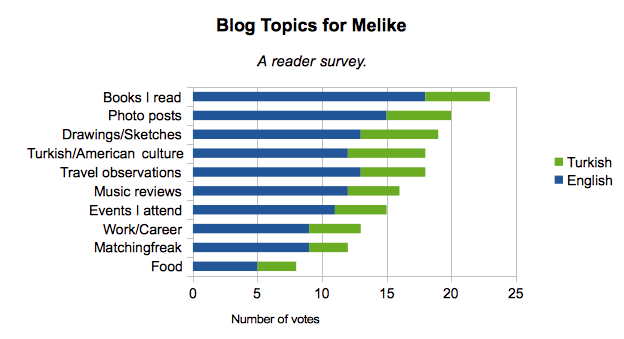 The only result that caught me by surprise was the high demand for book-related posts. Really? Well, okay. For starters, here's my Goodreads profile.
P.S. If you're reading this in a reader, do me a favor and click through to the blog. New layout, ta-da!